It is vitally important when laying SmartStone to continually clean the surface with a wet sponge of any cement, which could cause damage to the pavers, cladding, etc.
It is recommended that two to three days after grouting is completed, that the surfaces be cleaned with a solution 1 part spirit of salts to 4 parts water. Scrub a small area
at a time (±1 to 2m²) and then rinse off the area immediately with clean water.
This will clean off most adhering mortar as well as cement dust that may have settled on the surface, as well as the lime in the upper layers of the concrete, and will help to
eliminate efflorescence which tends to appear on the new concrete.
This method can be repeated at any time that paving, cobbles, walling or tiles become dirty and will help to enhance the natural look of the simulated stone.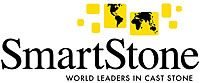 STRAIGHT EDGE PAVERS

Recreate the character and charm of centuries past with these accurately reproduced flagstones.
The biggest selling flagstone in SmartStone's range is perfect for your home.
Available in various sizes, they are an ideal choice for flooring, patios, pool surrounds and pathways.
Copings are available in two different sizes – 500 x 250 x 40mm and 250 x 250 x 40mm.