Mr. Piet Schoeman also let me use a photo that he had acquired of the grave of another Delville Wood survivor E.C.Mathis.
Emile Charles Mathis is buried in the Elands River Valley and a wreath for him was laid by Piet Schoeman during the rememberance day parade.
According to Ian Uys' book on page 111 we read a report written by Mathis after the war for the "Springbok"about his role in the Battle of Delville Wood . He was 17 years old and in No. 3 platoon known as the Yiddisher Platoon under 2nd Lt. Jack Hollingsworth.
"When we attacked on the morning of July 16 1916, from the waist high trench we had dug in the wood we were almost immediately pinned down by heavy machine-gun and rifle fire.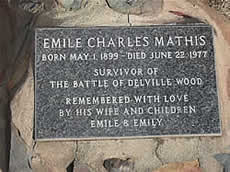 It swept in purposefully from the front and the flanks and took its toll. A slight rise in the ground gave some cover to a few of us.Behind this six of us were lying - Lt. Isaacs (B coy), Cpl Heath (D coy - Lewis guns), myself, Johnny Grimes, "Daddy" Neilson and Lange, four of us out of A coy.
Cpl Healy was later awarded the DCM. I brought up ammunition for him as the rest of his gun crew were put out of action as soon as we attacked.
He goes on to report that Isaacs and Healy were able to successfully withdraw to their trenches after the attack, as well as Grimes and Neilson during a heavy shower of rain. Lange was killed in the attempt and Lt.Hollingsworth never returned from the attack and was posted as missing, assumed killed